NZE KINGSLEY Dir. Of Impl. WYEF'S SEV & H/A PROJET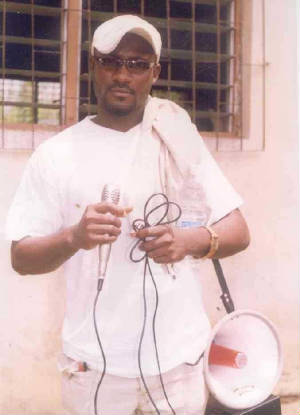 PROFILE OF THE DIRECTOR OF IMPLEMENTATION WYEF'S SEV & HIV/AIDS PROJECTS
NZE KINGSLEY is from Imo-state. A graduate of Business Administration and Management of the Federal Polytechnic Owerri, Imo-State. His passion for the war against HIV/AIDS started since 1998, in LAGOS UNIVERSITY TEACHING HOSPITAL (LUTH) where he did his industrial training program. In several occasions he had face to face discussions with people living with HIV/AIDS. Their memories even at present still wrestle with him. Again, his passion was further deepened when his parents adopted a little child because of the death of the child's both parents due to HIV/AIDS.
These and many more made him resolved in fighting against this evil. During his HND program, he was an apostle of abstinence. This he further pursued in the course of his NYSC service year where he served as a peer-educator under UNICEF.
Few weeks later after his NYSC program, a form was given to him nominating him for the LEADERSHIP FOR HEALTH PROGRAME organized by Leadership, Effectiveness, Accountability and Professionalism -LEAP Africa.
During the program, he saw completely and entirely new, effective and efficient techniques to further this course. The Leadership program was educative; informative; inspiring and has not only re-orientated his attitude to work, it has really equipped him with the basic skills and techniques needed as a youth leader to effectively and efficiently initiate, design and manage a project.
Below is a pictorial presentation of one of the project designed and implemented by him during the LEADERSHIP FOR HEALTH PROGRAM
PROFILE OF THE NATIONAL COORDINATOR
UCAH PROJECT - EGBE EDITH
EGBE EDITH hails from Nibo, in Awka South L.G.A. of Anambra State. A graduate of Enugu State University of Science and Technology (ESUT) with B.Sc. in Economics. Her passion to mentor Teenagers and Youths could be traced back in the Early 90's, during her Junior Secondary Level, when she resolved to lead by example. The success of this resolution was in progress, when she was posted to Cross River State. The State is among the States rated as having the highest rate of the People Living with HIV/AIDS - PLWHA-, as at the year 2004.
During her Service year, in Cross River State, She was able to prove to the People (both young and old) of Ogoja Urban and Environ that abstinence is 'Possible', contrary to their believe; while the price is mere 'Decision'. Her passion grew as she continues to hear the stories of infected families, and Orphans whose parents die of AIDS.